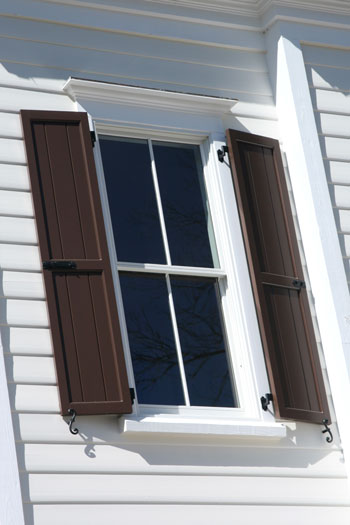 Are You Looking For Solid Core Vinyl Shutters For Exterior Use?
We get a lot of phone calls asking us if Larson Shutter Co. has "solid" vinyl shutters. Their assumption is that there exists a product made out of vinyl for exterior shutters that are solid and if they call enough places they will find them. They see the inexpensive vinyl shutters on our site and other sites and many times don't realize they are hollow and not solid core vinyl. Usually the reason for this question is this person is wanting to hinge the vinyl shutters either for looks or for functional use so they can open and shut the shutters for privacy or weather concerns but they do not want to pay the much higher prices for either solid wood or solid core composite shutters.
Here is the answer...
The short answer is simply, no you will not find solid core inexpensive vinyl shutters for exterior use but we do have the typical hollow open back vinyl shutters that are available. However if we expand on this, technically we do have exterior solid vinyl shutters but they are actually "considered" polymer composite shutters. You won't be happy with the price though if you are looking for inexpensive vinyl shutters, but they are strong, solid and can be hinged for the real look or actually be used for working functional shutters with any of your existing hardware from your old wood shutters or used with new hinges, shutter dogs, etc. from our shutter hardware selections.
Here's where you can get them...
The brand of solid High Density Structural PVC shutters with side styles that are reenforced with marine grade aluminum that we carry is: New Horizon Polymer Composite Shutters. If you want a solid core composite material and are not looking for the standard open backed hollow vinyl shutters check these out. You will find them in the composite shutter category on our website.