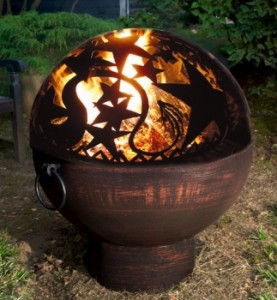 When you order a fire pit from us for outdoor use, you need to make sure that the flames will be well-contained and that users will be able to sit safely next to it. A crackling fire can be a warm, soothing addition to your yard or patio, but left open it could expel sparks and ash, making things a little less fun than what you might have envisioned.
To keep the fire in the pit where it belongs, Larson Shutter Company sells pits and screens from Good Directions. Interested buyers have a few options when purchasing. You can buy the pit and the standard spark screen separately or together, or go for an added bit of style with a Fire Bowl or Fire Dome.
This last option puts a twist on the familiar cover and creates a fun nighttime atmosphere due to the smooth black star shapes attached to it. Once the fire is going, the light will play against these shapes, giving guests an extra reason to watch. Some of the larger versions of these products contain a spark screen, so users can expect just as much protection as visual interest.
For an even more elaborate design on the screen cover, there's the Full Moon Party Fire Dome, a cover that features images of stars, flames and dancers cut into it. The fire works as a backdrop to the intricate artwork and helps create a festive atmosphere.
The Fire Bowl adds yet another element to the mix by putting the flames in a hand-hammered steel bowl, offering a grander experience than the pit. Fire Bowls are available with just the standard spark screen too for a humble outdoor gathering.
These pieces can be notable additions to the outdoors and are perfect for spring and summer gatherings.