Choosing A Color For Your Mid-America Exterior Vinyl Shutters!
Our vinyl shutter color choices can dress up your drab house. Here are a couple of thoughts on how to choose the color for your exterior shutters. If your house is painted with a dark color, you might choose a lighter shade of the house siding color for them. Using that same idea, if your house color is on the lighter side think about a darker shade for the shutters. The shutters should add some contrast and make you feel good about your house. Of course, on a lighter color house one of the most popular colors to use is black. Remember whatever you choose have fun with the color, so start browsing our most popular shutter colors.
IMPORTANT NOTE: If color is critical please PURCHASE MID AMERICA COLOR CHIPS HERE to be mailed to you! Even with our useful Mid-America color chart, the hues can look different on your computer monitor than what you see below.

001 White

018 Tuxedo Grey

023 Wicker

078 Wineberry

036 Classic Blue

028 Forest Green

117 Bright White

010 Musket Brown

009 Federal Brown

167 Bordeaux

166 Midnight Blue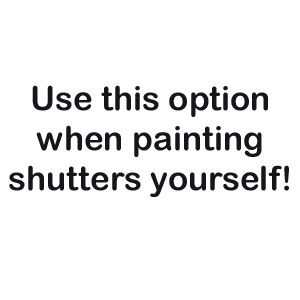 030 Paintable

002 Black

008 Clay

027 Burgundy Red

004 Wedgewood Blue

122 Midnight Green
NOTE 1: Colors for Mid-America building products can look different on each computer monitor. If color is critical please PURCHASE MID AMERICA COLOR CHIPS HERE to be mailed to you!
NOTE 2: When you want to paint the Mid America shutters yourself you will need to choose "030 Paintable", you cannot paint the pre-colored shutters. CLICK HERE For Painting the 030 Paintable Recomendations
As you can see in the chart above, Mid-America vinyl shutters are available in the most popular colors. The color is in the vinyl material, so it is a color through vinyl product. Since the color is all the way through the material you don't need to worry about the finish scratching or peeling off. In addition, the vinyl material has UV inhibitors in the vinyl to help the fade resistant properties. Mid-America's Lifetime Warranty will give you peace of mind since it is backed by the largest vinyl shutter manufacturer in the world, so you can buy with confidence and use this color chart for vinyl siding.