How large should my cupola be?
The most common mistake made in ordering a cupola is underestimating how large it should be. Remember, a cupola always looks smaller once it is up on the roof. A good rule of thumb is this: ALLOW AT LEAST 1 ¼" OF CUPOLA BASE WIDTH FOR EVERY FOOT OF UNBROKEN ROOF LINE. If you have any doubts in your situation please call and we will help you.
What are the standard product features for your Cupolas?
Our Cupolas are clad in .019 Aluminum with either a Baked Enamel or PVC Coated Finish. They come with a 16 oz. Copper Roof and 9 x 9 Vent Mesh Fiberglass in the color Charcoal. They also come with a ¾" Weathervane Hole drilled into roof as well as Painted Stainless Screws for Installation and Mounting Hardware Bolts for Attachment to Roof.
We will also Cut the Roof Pitch into the Base of the Cupola (Any Pitch). On Steep Pitched Roofs we automatically adjust the height of the Cupola so your Cupola is proportionate.
Over 400 colors are available in aluminum at no extra charge!
How are the Cupolas measured?
The 1st measurement is taken from the width of the base and the 2nd measurement (height) is from the longest point of the base to the top of the Copper Roof./p>
Are the cupolas difficult to install?
No, we have made it relatively easy. A cupola can be quite heavy, making it very difficult to hoist onto your roof. That's why we build our cupolas in three easy-to-assemble sections, so you don't have to haul so much weight all at once. Our innovative three-section design also makes it easier to attach the cupola to your roof. We even cut the base pitch in for you, to accommodate the pitch of your roof, so you don't have to! When ordering extra large Cupolas we can insert an eye hook into the roof to allow for hoisting by machinery.
Cupola Installation Instructions.pdf

How do I install my Weathervane on the Cupola?
All of our Cupolas come ready to accept a Weathervane rod so no additional hardware is required.
Post Installation Instructions and Weathervane Installation Instructions

Do I need to order a curb for my Cupola?
If you're installing your Cupola on new construction, a curb is recommended. It allows you to run the flashing up the sides of the curb and then drop the Cupola base over the curb so all your flashing is hidden underneath to prevent water penetration. Additional fees apply.
Should I order my curb at the same time as my Cupola?
Yes. It will save you money on shipping.
How does my Cupola arrive?
Your crated Cupola will arrive complete and stacked together in 3 pieces (Roof, Middle Section & Base Section) for ease of installation. *Please note there will only be 1 crate, (depending on size)*/p>
What size Weathervane should I get for my Cupola?
Most of our Standard Size Weathervanes are the perfect size for our Cupolas. However, some Weathervane figures are smaller than others so be sure to check the figure size. Should you order a larger sized Cupola, the Estate Series is recommended. Please call for help or assistance in choosing the perfect Weathervane for your Cupola.
Can my Cupola be used for ventilation?
Our Louvered Cupolas are designed to allow air flow through your attic and work best when used with gable end louvers. This combination creates excellent air flow to prevent your attic from rotting.
How do I determine roof pitch?
To save you the trouble, we ship our cupolas with the base pitch already cut out of the base to conform to the pitch of your roof. So we need to know your roof pitch. Here's how to determine it:
The measurements are taken from on top of the roof. Simply mark a level at 12", hold it perfectly level and measure from the roof surface to your 12" mark, this will give you the rise. Be careful with this method as a roof with many layers of shingles, or any type of roofing that is irregular can give you less than precise results.
See Diagram below for more information: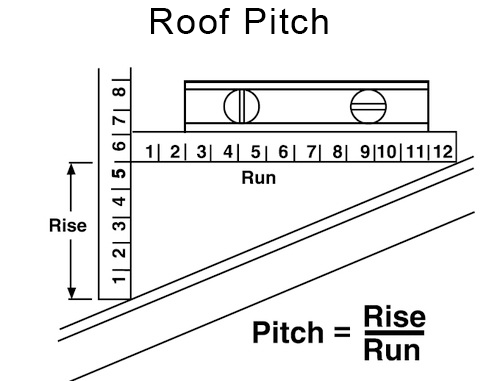 How to measure roof pitch
So, for example, if you measured 7", the pitch of your roof is 7/12, pronounced "Seven over twelve."
Can my Cupola be made from something other than the standard .019 aluminum?
Yes! Variations are available, but may incur an additional cost. They include:
.024 Aluminum (Available in White Only)
.032 Aluminum Kynar Finish (13 colors available)
16 oz. Copper
29 gauge Steel (13 colors available)
26 gauge Steel (13 Colors available)
Can I have something other than Copper on the roof of my Cupola?
Yes. Other options available are painted metal, steel or we can leave the Copper off to allow you to shingle it to match your project.
Do I have to ever paint my cupola?
Most ready-made and build-from-a-kit cupolas are made of wood that needs to be painted when you first install the Cupola and frequently thereafter. Our Cupolas, on the other hand, are made of wood wrapped in smooth baked enamel Aluminum, so they never need painting. Even if you want the base and louvered section of your Cupola to be some other color than the standard white, you'll still never need to paint the Cupola, because you can choose from over 400 colors of smooth baked enamel Aluminum! And the roofs of our Cupolas are clad in Copper, which won't need to be painted.
How long will the polished Copper finish stay shiny on my Cupola Roof?
Depending on your location, usually within a few months, the copper will lose its shine and start to naturally tarnish. We can coat your Cupola Roof with a product that protects and maintains the polished finish of your copper Cupola Roof for approximately 7 years to prolong the look of raw copper.
Can you age the copper on my Cupola before I receive it?
Yes. We can turn the copper to a bronze or patina look if you don't want to wait for it to turn on it's own.
Can Larson's install our Cupola for us?
Unfortunately, we don't offer installations at this time.
Are Larson's Cupola products eco friendly?
We're concerned about how our company and products affect the environment. As a result, we've taken steps to minimize our impact—and we're continually reviewing ways to do more. Every step, no matter how large or small, is a good step in preserving our environment for generations to come.
Did you know that at the end of their long useful life, Aluminum products are 100% recyclable and can be reprocessed into similar products with no loss of quality? Eco-friendly Aluminum Louvers & Cupolas further help the environment because they never need to be repainted, thereby reducing the amount of paint and other maintenance-related substances entering the waste stream.
Aluminum is a good choice because it...
Is a light-weight material, which allows for more fuel-efficient transportation.
Can usually be recycled in a single process using up to 95% less energy than the primary production process.
Is produced from material that is at least 90% recycled aluminum. Using recycled aluminum instead of raw materials reduces the generation of air pollution such as carbon dioxide (CO2), sulfur dioxide (SO2) and nitrous oxide by 95% and water pollution by 97%.
Can I paint my Cupola?
Yes! Larson Shutter Co., offers 450 colors that come from the Siding Industry and are specifically designed to match any Vinyl, Steel or Aluminum Siding. If you happen to be matching a brick or stucco color, you can send us a color chip to go off from and we'll let you know what our best match to it would be. For paint colors we already have most paint decks in house so you can just let us know whose color you want us to match, and we'll take a look and let you know. Should you find we don't have the perfect match for your project, we can simply make your Cupola in a smooth Aluminum which will paint up nicely. However, we hope to match the color you need in order to save you the time and effort of having to paint it.