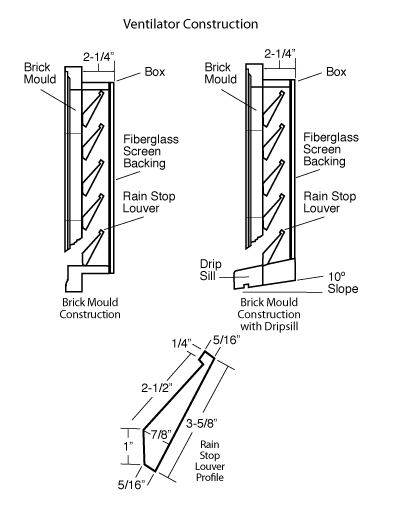 Cedar Gable Vent Louvers
Louvered wooden vents are crafted in octagonal, round, half-round, oval and rectangular shapes. Louvered gable vent variations are also available. Larson's provides a variety of standard design variations and can supply custom designed cedar gable vents to meet any specifications.
Exposed exterior components are constructed of decay-resistant Western Red Cedar. These hand-crafted wood attic vents feature louvers with a special weather-resistant rain-stop design as a deterrent to wind-driven rain.
All ventilators and vent louvers are constructed 1/2 inch under rough opening sizes. Western Red Cedar gable vents are naturally decay-resistant and are easily stained or painted with proper priming.
All components in these wooden louvered vents that will be exposed to weather are constructed of stain grade Western Red Cedar. Ventilators are constructed 1⁄2" less than rough opening size. The following specifications apply to the configurations of our cedar gable vents.
• 2 1⁄4" Jamb
• WW 180 Brick Mould
• Nylon Screen Backer
For Rectangular Gable Louver Vents:
Depth is 2 1⁄4" behind moulding on cedar wood louvered vents with or without drip sils
• 180 Brick Mould
Two-Piece construction is required for ventilators and wood gable vents wider than 72" or warranty is void.
---
---