Custom Octagon Gable Vent, .019 Aluminum
VT-NCL-OCTAGON
Select Options For Pricing
Price reflects any applicable discounts
$1.00

Custom Octagon Gable Vent, .019 Aluminum
Code: VT-NCL-OCTAGON
Select Options For Pricing
Price reflects any applicable discounts
$1.00
---

Price Range:
from $256 each

Product Return:
Custom - No Returns

Usual Processing:
2-3 Weeks

Ship:
Spanish Fork, UT
Aluminum Octagon Gable Vent (material .019)
Freight will be quoted if oversized shipment cannot go by FedEx or UPS.
Maintenance Free! Our custom octagon attic vents are made with a wood frame and clad with aluminum so you never have to paint!
Over 450 Colors available that perfectly match all vinyl, steel, and aluminum siding colors (if you don't see the color your looking for please call us!)
Octagon louver gable vents arrive ready to install into any application (see our mounting options)
STANDARD MATERIALS & FINISHES FOR .019 ALUMINUM LOUVERS:
.019 Aluminum with a smooth baked enamel finish (450 colors available) This is our most popular option!
9x9 Fiber Glass Screen-charcoal colored
1" Depth
Due to shipping rules, if your octagon louvered aluminum gable vent is over 10 feet, we may have to make it in 2 halves with a center mullion. Should this be the case with your custom louver order, we will contact you after order is placed to discuss.
OTHER MATERIAL OPTIONS:
.027 Aluminum with a baked enamel finish (variety of colors available)
.040 Aluminum with a Kynar finish (variety of colors available)
26 gauge painted Steel (variety of colors available)
Galvalume 29 gauge Steel
G-90 Galvanized 29 gauge Steel
OTHER SCREEN OPTIONS:
18x16 Aluminum screen-charcoal colored
Galvanized, Copper, and Stainless screens are also available!
OTHER DEPTH OPTIONS:
1 1/2", 1 3/4", 2", 3", or 4" also available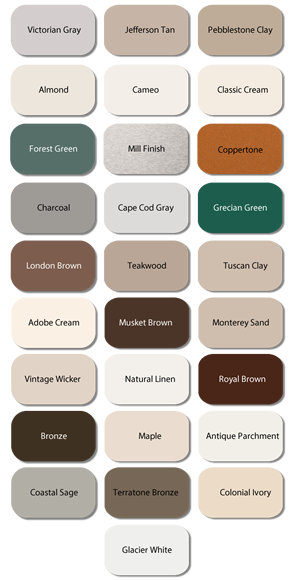 Customer Ratings & Reviews
Be the first to rate this item!