Board and Batten Exterior Cedar Shutters (pair)
SS-CED-BB
$222.91

Board and Batten Exterior Cedar Shutters (pair)
Code: SS-CED-BB
$222.91
---

Price Range:
from $435 pair

Product Return:
Custom - No Returns

Usual Processing:
6-8 weeks

Ship:
Montgomery, AL

Warranty:
Lifetime construction defects
Exterior Western Red/Spanish Cedar Board & Batten Shutters
Board Width Customizable by Board Count. Board counts that result in board widths over 5" will incur an upcharge.
Available widths: 10" to 30"
Available Heights: 20" to 90"
Shutter over 42" high recomended 3 horizontal boards or Z board configuration is recomended.
Material: Prices are for CLEAR (no finger-joints) Cedar; For select grain STAIN-GRADE with no filler add 10%.
Board and batten shutters offer a unique look that gives a Mediterranean feel. This shutter is also popular on ranch style architecture. The board and batten shutter is constructed from 1" cedar boards which are spaced equally with a small gap between the boards to allow for expansion. This heavy duty construction is sure to add quality and value to any home.
Hand selected Cedar, a naturally decay resistant wood, is the preferred choice for this application. Straight and light in weight, nothing matches the performance of Cedar. Semi-transparent and solid color stains are an excellent finish option. When painted, a good quality, fast drying, oil based primer should be used. Left unfinished cedar will silver and remain maintenance free for years.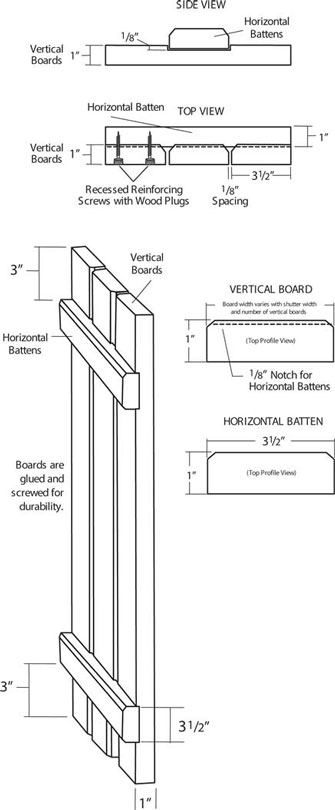 WARRANTY: The manufacturer warrants these shutters with a limited lifetime warranty against any manufacturer defect in construction for the life of the shutter . Warranty covers the raw shutter; it does not cover any cost incurred in the finishing or hanging of the shutters.
NOTE: These Western/Spanish shutters are custom and made to order for you. They are non-cancelable and cannot be returned. Defective merchandise will be repaired or replaced at Larson's discretion.
Customer Ratings & Reviews
Be the first to rate this item!