New Horizon Poly Carbonate Fixed Mounting bracket (1 ea)
PC-FIX-MT
$5.00

New Horizon Poly Carbonate Fixed Mounting bracket (1 ea)
Code: PC-FIX-MT
$5.00
---

Usual Processing:
8-14 Weeks
Poly Carbonate Fixed Mounting Bracket For New Horizon Composite Shutters Installation.
You will need a minimum of 4 brackets to mount each shutter, (8 required per pair of shutters).
No screws provided with brackets.
Brackets can be positioned at sides or top and or bottom of shutters
Material: Poly Carbonate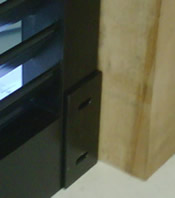 Click Here for Specifications>
Customer Ratings & Reviews
Be the first to rate this item!