Bahama Style Southern Yellow Pine Shutter (each)
NOR-PINE-BAH
Select Options For Pricing
Price reflects any applicable discounts
$95.00

Bahama Style Southern Yellow Pine Shutter (each)
Code: NOR-PINE-BAH
Select Options For Pricing
Price reflects any applicable discounts
$95.00
Ratings Snapshot
Would recommend this product.
---

Price Range:
from $130 each

Product Return:
Custom - No Returns

Usual Processing:
4-5 weeks.

Ships From:
Albertville, AL

Warranty:
1 year limited warranty
Bahama Style Southern Yellow Pine Shutter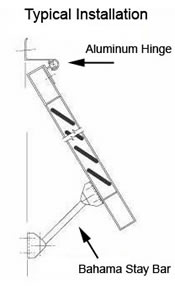 Example of a Bahama shutter installed with optional hardware kit.
Species: Southern Yellow Pine.
Louvers: 1/4" thick by 1 3/4" wide.
Stiles: 1" thick by 2 1/8" wide.
Paint grade is standard; Stain grade available with up-charge.
Pine shutters are not recommended for functional use.
Pine wood is susceptible to rot in high moisture areas. (We recommend Cedar for these areas.)
NOTE: Pine wood shutters are a light duty choice. They will not hold up in severe or high moisture weather and will need more upkeep than our other wood choices. Be sure to seal and paint on an annual basis for the longest life. We do not recommend Pine shutters for functional use because they are light duty.
WARRANTY: 1 year manufacturer limited warranty against manufacturer defect in construction of the shutter. Warranty does not cover any cost incurred in the finishing or hanging of the shutters.
Construction: Each joint is joined with 2 dowels and glued with
polyurethane exterior glue. A 3 1/2" treated screw is then inserted
and countersunk. The resulting hole is plugged and sanded smooth.
NOTE: This is a custom product, made to order for you and is
non-cancelable and cannot be returned. Defective merchandise
will be repaired or replaced.
Customer Ratings & Reviews
Ratings Snapshot
Would recommend this product.
Would recommend this product.
Bahama Style Southern Yellow Pine Shutter (
dave
Location: NV
Date: October 21, 2017
everything was great, quality, customer service, ease of ordering!
Verified Buyer
Recommended