14 in Strap Hinge & Pintle Set, 2 1/4 in Offset, Wrought Steel (pair)
HDW-1014-214
$33.99
48.55
Normally: $48.55

14 in Strap Hinge & Pintle Set, 2 1/4 in Offset, Wrought Steel (pair)
Code: HDW-1014-214
$33.99
Normally: $48.55
---

Product Return:
Discontinued No Returns

Usual Processing:
1-2 Business Days

Ship:
Philadelphia, PA
14" Wrought Steel Strap Hinge and Pintle Set, 2 1/4" offset
Hinge 1-3/4" x 10" x 12 Ga.
Hinge Offset 2 1/4"
Pintle Plate 1-1/2" x 3-1/2" x 1/8"
Pintle Offset 2 1/4"
Pintle/hinge sleeve Diam. 3/8"
Supplied with: 1" x #8 F.H. Wood Screws & 1" x #12 Pan Head for Hinge.
Finished in wrought iron black over zinc plating.
Special order item, usually ships in 2-6 weeks.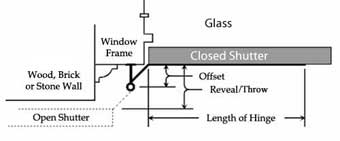 Hinge: 2.25" offset, Pintel: 2.25" offset. Together this equals approximately 4.25" reveal (projection) when shutters are open. When closed, shutters will close flush into the window opening so you will need to make sure you have the depth for the shutters to lay into.
Customer Ratings & Reviews
Be the first to rate this item!